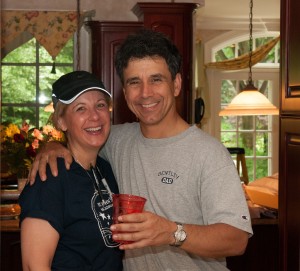 All of us at RMS are so gratified by the many expressions of appreciation and the recommendations we've received from our valued customers, and we want to share some of them with you!
We'd love to hear from you. If you would like to write a testimonial, please click here to Add Testimonial. We will use only your first name to protect your privacy.

To learn more about our comprehensive offering of moving and storage services, please call us at 201.529.2211. 
THANK YOU FOR THE KIND WORDS
Ridgewood Movers made moving fun!! From the packing to the delivery it was nothing but clean, courteous and amazing service. We even bonded with our movers sharing laughs and family stories!! I highly recommend Ridgewood Movers to anyone who wants not only professionalism but a family "family" feeling!! Bravo!!! They made moving easy!!!
Origin Location:
Mahwah, New Jersey 07430
Destination Location:
Montvale, New Jersey 07645
Peter Danes was very knowledgeable and gave us a fair estimate. He made sure everything went smoothly. The movers were quick, respectful and efficient. Highly recommend this company!
Move Date:
September 23, 2020
Origin Location:
Franklin Lakes, New Jersey 07417
Destination Location:
Ramsey, New Jersey 07446
We moved my 96 year old Mother from her apartment (where she lived for 26 years) to our home in Glen Rock. Every single thing went without any issue at all!
Cindy visited to give us an estimate and with her warm, understanding personality she casually, calmly walked through my Mom's apartment and made her feel very at ease with the whole move. The estimate was extremely fair and reasonable.
The movers that came over were two of the most competent, friendly and respectful gentlemen we have met and my mother and my family were so pleased with the way they handled all of her items and ours! They went above and beyond their duties for sure! I truly would look nowhere else except Ridgewood Movers for any moves, large or small. On top of everything else, we received a follow up call to make sure we were happy with the services provided. We certainly were!! Thank you Ridgewood Movers. You're the BEST!
Move Date:
November 30, 2019
Origin Location:
Ridgewood, New Jersey 07450
Destination Location:
GLEN ROCK, New Jersey 07452
Two days before moving I realized I never signed with a mover. Beyond stressed, I randomly called Ridgewood Movers. They fit me into they're schedule with no hassle, penalty or grief whatsoever! Showed up on time, were efficient and friendly! My new neighbors came by to say
"hi" to the movers--recognized them from 6 months previously. Who does that? I could go on, seriously. I would use them again and recommend them without hesitation.
Move Date:
January 9, 2019
Origin Location:
Oakland, New Jersey 07436
Destination Location:
Mahwah, New Jersey 07430
Moving an art studio with valuable and heavy equipment, including a large etching press can keep you up at night, but I knew if the right team was hired it would be fine. This is why I called Ridgewood Moving Services. Five years ago they accomplished a tough job with smarts, great energy and amazing team work. I loved the guys for their TLC with my treasured stuff. Well on November 14, Heraldo, Ryan and Chris did it again! They accomplished a difficult move with smiles, good humor and careful handling. Hugs from this very grateful artist. See you soon for the household move coming up in December!
Move Date:
November 14, 2018
Origin Location:
Woodland Park, New Jersey 07424
Destination Location:
Midland Park, New Jersey 07432
I can't say enough good things about my experience with RMS. From my initial discussion with Christina to the actual move, this was an exceptional experience. My move actually involved 2 pickups, the first at a storage unit in Nanuet NY and the second at E. Rutherford NJ. Carlos and his team, who were fantastic arrived on time at the storage unit and proceeded to empty it in no time. The second stop was an apartment and Carlos and his team went right to work. They took tremendous care of all the items to be moved and carefully and skillfully loaded the truck to go to our final destination. The unpacking from the truck and the delivery into the house went flawlessly. I can't say enough good things about Carlos and his team. They did a great job!!! I wouldn't hesitate to use RMS again. They made a day I dreaded go more smoothly than I could have imagined. Thank you!
Origin Location:
E. Rutherford, New Jersey 07073
Destination Location:
River Vale, New Jersey 07675
Cindy and her crew made our move out of state stress-free! Professional, courteous, accurate and so pleasant to work with. Can't thank you all enough for making this move one of our easiest ever!
Origin Location:
Ridgewood, New Jersey 07450
Destination Location:
Lexington, Virginia 24450
We can't say enough about the friendly professional service, from the first phone call to the final delivery. Christina and Dee were very nice on the phone. Peter Danese was thorough, kind, and even checked in on packing day! Our moving team was absolutely great, headed up by Ryan and Tracy. Every request was done with a smile. They made us feel like family! All should be commended! Thank you all again for making this move as stress free as possible. We will always recommend you.
Move Date:
January 26, 2018
Origin Location:
North Haledon, New Jersey 07508
Destination Location:
Manahawkin, New Jersey 08050
From start to finish, Ridgewood Moving Services was everything we could have hoped for. From first contact to the move being completed, everything went as well as it could. Everyone was courteous, professional, and efficient.
I would highly recommend this company!
Move Date:
January 24, 2018
Origin Location:
Glen Rock, New Jersey 07452
Destination Location:
Wayne, New Jersey 07470
I rarely am impressed with a business from end to end but everyone at Ridgewood was great. From the moment Peter came to give an estimate until the last box was unloaded and the bill paid!
The crew that moved us could not have been better or nicer to work with. They were professional, very efficient, pleasant to work with and they really seem to like who they work with and what they do! Jimmy, Chris, Isaac and Segundo could not have been any better to work with.
Segundo, who also came to pack my mothers breakables the day before the move, was so nice and helpful to her. Steve, the manager at Ridgewood, even showed up during the move to check on everything and make sure I was happy!
Chris, Dee and everyone in the office could not have been more helpful as we lined things up, dates changed around a bit, etc.
And while this rarely happens anywhere, the final bill was $100 LESS THAN THE ESTIMATE.
All in all, a great experience and I would recommend Ridgewood, and the crew who moved us, anytime.
Feel free to get my number from the Ridgewood office if you want to hear it from me directly before you pick a mover. Thanks!
Eric
Move Date:
December 1, 2017
Origin Location:
River Edge, New Jersey 07661
Destination Location:
Monroe, New Jersey 08831